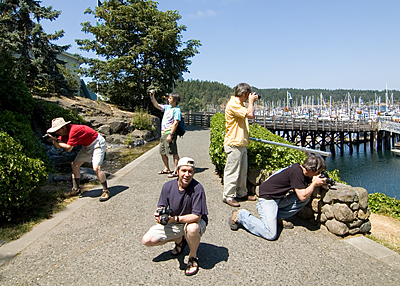 Killing 2 birds with one stone today - First, our theme this week is "Post-processing Effects", so here I am 5 times in one image. Thanks Photoshop! And thanks Cody! Cody was instrumental in helping me do this project today. He clicked the shutter release for me and also kept guard over all my gear as I ran to the Men's room at the port to change clothes. He also helped me line up the different postions for my various poses.
Second, I am excited to announce that I will be leading a
Photowalk
this summer. I saw a post on
Celina's blog
recently mentioning a Photowalk. I had no idea what that was, so I checked into it and was quite intrigued. But then I saw that none were offered near Friday Harbor, so I applied to lead one myself and I was accepted. So anyone reading this is welcome and encouraged to join me for this on July 18th. You can read more about it
here
. It's totally free, but you do need to register.
1/125th sec. f/16 iso 200