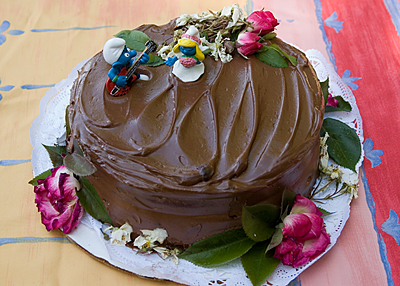 June 21st. The Summer Solstice. Father's Day (this year anyway). And from now on, our anniversary. Yup you read that right. Shannon and I got hitched today. This is our wedding cake. Click on it and see the silly smurfs decorating it.
What a day, we looked outside this morning at the rain pouring down. Flashed to that Alanis Morissette song lyric "It's like rain... on your wedding day...." and we thought naw... not for us! So it cleared up and the weather was beautiful. We went to Turn Island with the family and had a wonderful small ceremony on the beach. And right after we got back home it rained again. So it seemed like it cleared up and was beautiful just for us! (well that's what we like to think).
Eric
was our photographer and he might post a photo or two after he gets home.
1/100th sec. f/5 iso 200